If you've been thinking of featuring a hog roast at your next party or event, you certainly can't go wrong with one from Hog Roast Launceston. Whether you've tried one in the past or you're new to this taste sensation, a theatrical-looking hog roast centrepiece will wow your guests with its amazing aromas and mouthwatering visuals and once they dig in, they won't be able to get enough of the top-quality, free-range meat and crackling that result from hours of sizzling away – or our homemade apple sauce and sage and onion stuffing either.
We're also here for you if you're wondering about having different meat cooked for you instead and we're a dab hand at spit-roasted wonders too, such as a whole English lamb, some beef sirloin or free-range turkey or chicken, all served with appropriate trimmings. So with our Hog Roast Launceston lamb, which is studded with rosemary and garlic, you can feast on Yorkshire puddings and mint sauce, while with our mustard-brushed beef, you also get to enjoy Yorkshires but with a rich red wine gravy too. Our turkeys are slow-cooked in a sage butter and are served with our stuffing and cranberry sauce, while our chickens are rubbed with sea salt and thyme and are accompanied by our stuffing and butchers' chipolata sausages.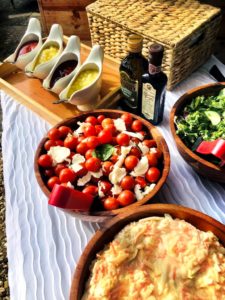 You can design your own menu if you prefer or choose one of our standalones and if you need options for special diets, check out our menus and you'll see some lovely meat-free possibilities. We can also cater other diets, like gluten-free, nut-free or dairy-free; just let us know any requirements when you book and we'll help you to decide which of our delicious, suitable, homemade dishes our chef will make you fresh on the day – just like our other food. We also have lots of other choices on offer in case you're planning a menu of multiple courses, with handmade canapés, starters, sides and desserts aplenty!
For your next special occasion, book your catering with Hog Roast Launceston and you'll see that everyone invited will be able to enjoy our scrumptious food.