If you are looking for an unforgettable hog roast experience anywhere in the Southwest, the Hog Roast Gloucester team are ideally placed to meet all of your catering needs. We have almost 20 years' experience of supplying superior hog roast catering packages for a wide variety of events in the area and we always receive great feedback about the quality of our pork, the diversity of our menus and the professionalism of our dedicated team. We are committed to delivering an outstanding level of food and service for every event we cater for and wowing our diners with freshly prepared dishes packed with delicious locally sourced ingredients. No matter the theme, size or location of your event, we will make all of your dishes from scratch at your venue whilst the meat is cooking. Spitting Pig Gloucester can offer you varied menus that are suitable for all occasions including wedding receptions, local festivals, corporate entertaining, private parties and more. As well as offering you menus that will please everyone, we are also able to cater in any outdoor rural setting or more formal indoor venue anywhere in the Southwest and we will always adapt our service style suit your event perfectly.
Over the past three years, we have built up an impressive portfolio of regular clients who can't get enough of what we have to offer. From local hotels to prominent wedding venues, our clients keep coming back to us again and again because of the quality of our food and the variety of our services. We have worked diligently to establish our well-earned reputation as the number one hog roast company in the Southwest and we are continually building upon our success in order to offer incredibly diverse and professional catering packages for any occasion.
Our clients love our commitment to preparing all of our food on-site and the quality of our larder, which is comprised of as much locally sourced produce as possible. All of our pork and other meats, including beef, chicken and lamb, are free-range and sourced from ethical producers. As we always cook our meat on-site, we will arrive several hours prior to the event, and whilst the meat is roasting slowly, we will be busy preparing the rest of the food, setting up our service area and making sure everything is perfect ready for the arrival of your guests.
Hog Roast Gloucester Catering

As you will see from our menus page, we offer a broad selection of catering packages for any occasion. Whilst the variety offered by our set menus is often satisfactory for the needs of a lot of our clients, we can give you the freedom to choose an entirely personalised menu that is unique to your event. Whether you require a different meat or specific dishes that accommodate certain dietary requirements, we will ensure that your final menu gives you everything you need. From the outset, our team are always on hand to provide support and guidance in every stage of the planning and execution of your event.
We Will Ensure That Your Event Is One To Remember
We appreciate how unique each event is and we will always go the extra mile to make it even more special for everyone involved with the quality of our food and service. We are able to offer premium mobile catering services across the entire Southwest region for events of all sizes. From intimate family parties to large-scale events for several thousand people, we have the scope to do it all to an excellent standard and alter our approach and our menus accordingly.
When it comes to the planning and costing for the catering for your event, you will be met with complete clarity and transparency from the outset. Our experienced team are available via phone and email to answer any queries you have, and you can also visit the FAQs section of our website for general information about our catering services. If you would like to see what other clients think about our services or you would like to have a glimpse of us in action you can also check out our testimonials and our Spitting Pig Facebook page.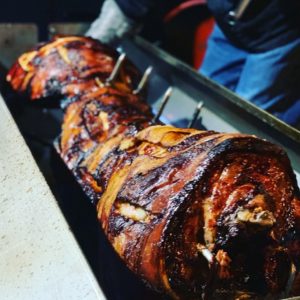 We don't just offer our own top-quality event catering, we can also give you the opportunity to cook your own hog roast thanks to our machine hire service. All of our machines available for hire are made from the highest grade stainless steel and designed to be robust enough to be used in any environment yet streamlined enough to fit comfortably into any setting. Hiring a machine from us will help you to provide some great food in any location, whether it be in the middle of a field, by the coast or even your own back garden. Our knowledgeable team will identify the best machine for your needs, bring it to your premises and set it up for you. We will also collect it again afterwards and take care of cleaning it for you. In the unlikely event that you do have any issues whilst you are using the machine, a member of our team is only ever a phone call away and there will always be someone available to help you.
Spitting Pig's kitchens have received a 5 star hygiene rating and we have the most advanced hog roast catering equipment available on the market. We have a diverse range of contracts locally for many different hospitality and catering related services, from corporate clients to hotels, wedding venues, bars and private engagements. Our broad range of services covers any kind of event catering that you can think of and whatever your catering requirements are, we're sure that we will have the ideal catering package for you.
Our machines are also exceptional designed and built in our own factory. Our spit roast oven has a glass viewing panel, which means you can see the whole hog rotating and cooking. This method also allows us to control the temperature of the meat at all times. Other companies use machines which are too close to the ground and the joint is not visible until it is fully cooked, then it is taken from the machine and put on to a stand where you can see it, this takes away the pleasure of watching the joint being roasted.