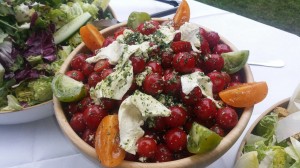 Hog Roast Gloucestershire is made up of a team of fully trained professionals; there to pander to your every need should you decided to book with us. From menu planning and event organisation to cooking and serving, we have a member of staff to oversee every stage of the process. From the initial enquiry we will ensure that you have all the information you need to make an informed decision. With lots of experience in the catering industry, each and every member of staff undergoes a vigorous training programme designed to ensure each of our clients receives the best service possible. We won't be beaten when it comes to customer care and are proud of our many testimonials. These can be viewed here on the website or please feel free to contact one of our advisors if you are interested in reading more.
Professional Mobile Hog Roast Caterers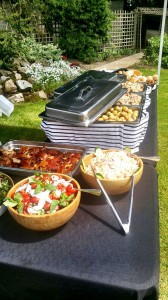 In actual fact, we believe that the best testimonial a person or business can give a company is repeat business. We have benefited from over three years of growth and most of this can be attributed to repeat business. We have been the preferred caterers for many local hotels for over two years now and are constantly being approached by other wedding venues in the area. We are extremely proud that our reputation precedes us and will always work hard at maintaining our image. All of our menus are prepared at the event utilising greener miles produce wherever we can. All of our hogs, lambs and poultry are free range and we always make sure that a chef and serving team are on site at least six hours before serve time. This is the approximate time it takes to cook a pig but it also ensures that there is help on hand if our client should need it. It is often helpful for our team to serve reception drinks and canapés and we are more than willing to lay tables and generally help to make things run smoothly.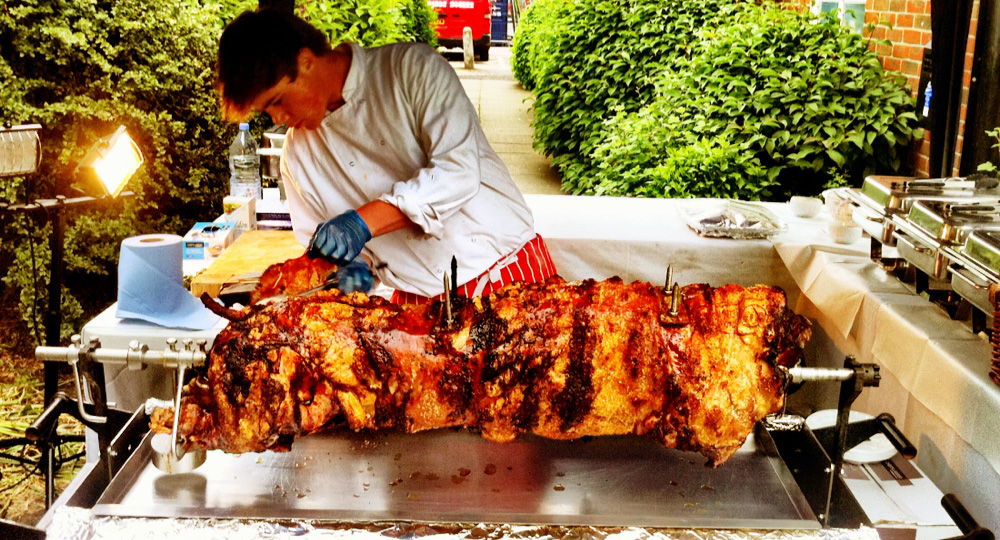 Our website is home to a variety of sample menus, enough to give any client a rough idea of what we can offer. It has already been mentioned that the service we provide is unbeatable and part of this service is the option to have a bespoke menu created to suit a clients individual needs. If it's elegant canapés you are after, our team can create them, if it's an alternative meat you are after, by all means, please enquire and if it is a stunning dessert that tickles your fancy, our chefs can provide the very best in the area. We like to think that we take the stress out of hog roast event organisation. From the initial enquiry to the event itself, we ensure that you have a contact at every stage of the process.
Hog Roasts Are Perfect For Any Event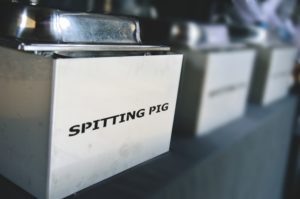 We know how important your day is and we ensure that you receive not only an exceptional menu but support and advice in abundance. Hog Roast Gloucestershire is a catering company based in Gloucestershire that covers all of the South West of England and even further if required. With years of experience in both catering and hog roast catering we have everything required to ensure your next event is the best one yet with fantastic food and fabulous service the catering we provide is the very best. Whether its a hog roast in Badminton or a hog in Cirencester we have a fleet of machines and a range of accessories to provide for thousands of people on any given day, we provide traditional hog roasts to spit roasts, or if you prefer we can provide spit roasted chicken, turkey, lamb or even salmon all prepared with the very freshest of chosen salads or fantastic seasonal vegetables.
Our office team will be able to help you through every stage of your next event and answer all of the questions that you might have we also have a FAQ section within this website that have already been answered from previous customers questions. Our testimonials page will provide you with comments from recent customer's events. The team at Hog Roast Gloucestershire will take you through your event from the start; they will take down all the necessary information including timings and special requirement information to ensure your next event goes very smoothly. The team have a range of advertised menus which have been the most popular in recent years but please ask them if you require something a little more bespoke as we would be glad to help you achieve the exact event you'll after.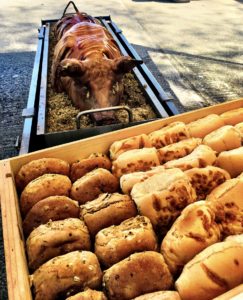 We don't only cook and serve at events, we also turn up and hire machine to allow you to do all the cooking yourself and take all the praise at the end of the night!! Or as we manufacture our own machine we can sell one to you if required with some of the many accessories we have to go with them. Our machines can be used anywhere and are built for the most difficult of locations, we have provided catering in fields, parks, manor houses, hotels, restaurants, on beaches everywhere is possible. Our team is extremely experienced and is fully qualified in every area, are vans are sign written, are still will arrive in professional uniform and we use the very best local ingredients where we possibly can. The office at Hog Roast Gloucestershire is open Monday – Friday for all enquiries but we also have a mobile emergency contact for all of our customers to give piece of mind when required.
Our production kitchens have been rated 5 stars by the local council and we have the best catering equipment available to ensure the best possible outcome at your next event. As well as Hog Roast catering the Hog Roast Gloucestershire team also have a range of contracts which they run in the local area, many of which are daily and include restaurants, vending, bars and many other areas within catering. We provide for weddings of all sizes, corporate events that include buffet lunches to canapés for product launches, we have a carvery that runs every Sunday from one of our catering contracts, provide for funerals, birthdays and christenings. Have run the hog roast catering at huge sporting events and have recently been the sole caterer at a local festival. Our food includes everything from simple buffets and hog roasts to 5 course menus to an extremely high standard.
So please give the team a call today at Hog Roast Gloucestershire to find out if your date is free and if we can cater for you, ask about our special quarterly offers which we change every three month, these give great value for money and could be suitable for your needs. Have a look through this site or email [email protected] for more information. We look forward to helping you very soon.