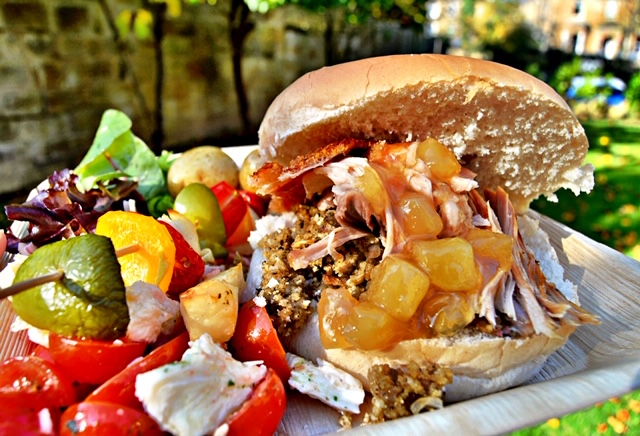 Bristol is one of the most important towns in the south west and is steeped in history with the docks being a focus for much of its early growth and activity. Once the docks where moved out to Avonmouth it enabled the are to be redeveloped into the great leisure area we see today. This is a wonderful place to have a Bristol hog roast and we have catered many parties at the bars and restaurants.
Hog roasting and spit roasting is the cream and the crop when talking food for large gatherings it is a very easy way to feed your guests quickly so there will be no waiting around for table service as soon as it has come to your chosen serve time all they have to do is get in line and they will be served within minutes. Myself and the rest of the Spitting Pig team have mastered hog roasting, we can cater for events small and large, be the event a party with a laid-back setting or an informal business breakfast. Amongst our hog roast Bristol menus are notable distinctions in the type and quantity of food served, as well as the way in which the food is presented and served. With these differences between menus is another reason that Spitting Pig is the caterer we are, with such a high number of customers who have individual catering needs for their unique occasions.
The Best Hog Roasts In Bristol
There are so many ways to enjoy a spit roast or tray roast dinner these days, it's not like in days gone by – or thousands of years gone by, more accurately – where a hog roast and spit roast was just that, meat ate straight from the spit. Today hog roasting is infinitely more exciting than it once was; as we combine the classic cooked mouth watering hog roast experience with new flavours and foods and tasty crispy crackling, whether it's herbs and spices to season the food that wasn't previously available to British people, or cooking up canapés, desserts and other such foods which early man had little concept of, other than eating raw fruits. Which is why today we make it known, without a hint of irony, that Spitting Pig is the best hog roasting has ever been and we'll bring the hog roast magic for your event you will be pleased you selected us once you have tasted our meats.
Above all else, we know that Spitting Pig is about more than hog roasting, it's about helping people, helping customers the best we can. Whether we're providing a drinks bar throughout an event, or providing you with a front of house to welcome and help guests, it's all done for you.
If you do call Spitting Pig you will see this, our hog roast Bristol office staff are in tune with our business ethos, they'll help you in however which way they can we are happy to go through all the menus and to change them in any way that you may want to we can add more than one meat option if you like we can add salads, potatoes and we can also add things like canapés and a selection of deserts we can even add a starter if you are wanting something a bit more formal. If you do book you'll get to speak to and stay in touch with your personal event chef he will be the one that turns up on the day and caters your event, with this contact you can spend your time putting your goals across and making a menu that you can be proud of, one your guests will appreciate and rave about you can finalise anything you like with the chef once you are booked in.
A fall back, or perhaps even your first choice if you like getting jobs done yourself, is to hire a Spitting Pig machine. A hog roast Bristol machine is less money than having a chef come down to you function and doing the catering for you, and it's so easy to use that we can't think of a reason for somebody not wanting to hire one – and by the soaring number of people who are calling us for machines we don't think we're alone in thinking that! Machines hires are a lot simpler than they look. The chef will drop off the machine he is able to put the meat in the machine and light it for you, all you need to do is watch it cook away whilst you prepare the other things such as drinks for your event the pig will have roasted with the 6 hour time frame and will be cooked completely in our machines so all you need to do then is to carve the meat onto either plates or straight in to your guests bread rolls.
Hog Roast Is Perfect For Any Event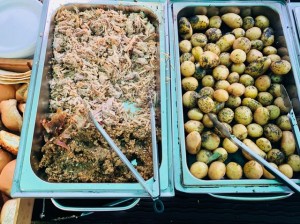 There really are a multitude of ways in which you can incorporate a hog roast into your event, it only takes a little imagination so we think that you can soon come up with a fantastic excuse for a hog roast Bristol event that everyone will enjoy. You just need to take out your diary and look through the year ahead to identify some potential dates when a hog roast could certainly be a good idea.
Soon after Christmas and new year is never an ideal time to start planning a hog roast event as you will always get those friends and relatives saying that they have 'overdone it' this Christmas and that they need to take January off, though we all know it's a pointless promise as they will soon be off the diet before you know it. But as February comes in then we can start looking at some possible dates when you may just be able to justify organising a bit of a hog roast 'do'. For a start there is Valentines day, but you can't really book a hog roast for two, can you? However, if you are a single character then there are lots of events that will be taking place where hog roast may just be on the menu, as well as a little matchmaking!
March and April could be another option as you will be seeing Easter and Mother's day around this time, but of course what you really want is an excuse for a big get together. Maybe there are some monumental birthdays coming up amongst your nearest and dearest that would give you a good excuse to organise a hog roast in Bristol where you could invite loads of friends and relatives? The nearer you get to the summer time (or as near as we get to it here in the South East) the better as then you can start considering that quite brilliant outdoor experience, the al fresco hog roast. Honestly, you really cannot beat having a hog roast event outdoors on a sunny Bristol summer's day. Some cider with ice and some hog roast rolls and you really will be like a pig in much (or maybe that should be 'in a bun').
Maybe there is a family or friends wedding lined up for near future? If so that would be a splendid opportunity to book a hog roast. Hog roast at weddings is quite the thing now, and that's not just for the evening but for the wedding breakfast too! Unfortunately, you can't go organising a wedding Bristol for anyone so that may have to wait.