Maybe your company hasn't decided where to have the next Christmas party or maybe your deciding how to make that next sales conference a little more interesting this year, you could be looking at ways of impressing your new clients or even potential clients or even need something special for after the next corporate fun day – well Spitting Pig South West has helped out for all of these reasons and many more over the years for many corporate companies across the south west. We've delivered Pig Roasts, Pig Roast with Salads and Potatoes, BBQ's a whole range of seated dinners…During the Christmas period we're always fully booked with mainly Turkey Roasts so please get in contact early to avoid disappointment.
And our corporate events can be anywhere and when we say anywhere we really mean anywhere, we've catered in the smallest of spaces to the largest in some of the strangest places you could imagine – so if you think we might not be able to do it because it might not be suitable please give our team a call on 01452 890226 first and you'll be surprised what we are able to do. We've catered on the top of a large building, on a beach, in the woods, on the roadside, in a industrial unit, next to a lake plus many many more locations as well as many more ordinary locations as well. Spitting Pig South West also cover the whole of the south west and serve at anytime night or day so please just get in contact by phone 01452 890226 or email
[email protected]
to let us know your requirements so we can discuss them with you further. And our service doesn't just stop there if you require us to manage your whole event for you from start to finish just let us know or you might want to add drinks or need any additional services catered for please just let us know what's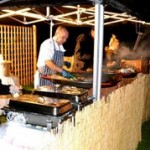 needed.
We have catered for all different sized companies all across the south west, many becoming repeat customers and have done for many years now. The number of people attending really isn't a problem and the menu isn't either so please give our team at Spitting Pig South West a call today and let us make your next event a huge success. We have decided to launch our piri piri spit roasted chicken range so please ask our team for more details, we use the very best local ingredients and cook these chickens on a spit to perfection and the homemade piri piri sauce gives that extra spice of flavour. So if your company needs a catering team at your next event that really knows what they are doing then give our team a call at Spitting Pig South West a call today, based in Gloucestershire, we will do everything we can to help make your event extra special.