Event catering is what we at Spitting Pig Gloucestershire specialise in. If you are planning a special birthday party, a christening or even a wedding, we have all the facilities and knowledge at hand in order to ensure that your special day runs smoothly. We can supply everything from a traditional hog roast to an all inclusive package.
Hog roasts and BBQ's were once seen as a more informal option for catering but our team have helped to reinvent the perception of this style of catering. Although we have many a menu suitable for the more 'laid back' type of party – the favourite being menu one; with the traditional hog roast, stuffing, crackling, floured baps and sauces. We have also acquired menus which are perfect for larger functions including the all important wedding breakfast.
Once we have received the initial enquiry, a member of our team will help the potential client choose a menu to suit their particular party. For many birthday parties, this is often one of our more simple menus but if you are planning a wedding breakfast or lavish anniversary party there are some great ideas for canapés, starters and desserts.
Once they have decided on a menu and a date, the client is allocated a contact who will be available at every stage of the planning process. This ensures that all aspects of the schedule are carried out and that the day itself runs without a hitch. We pride ourselves in our schedules and always make sure that every customer has one so that they know what to expect during the time running up to the party and on the day itself. The schedule includes the chosen menu, the timings and any special requirements i.e. dietary needs or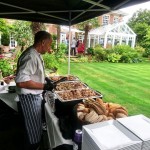 instructions for the cake etc.
Unlike other hog roast companies; we always cook our pigs fresh on site, this takes, to cook a large pig, quite a few hours. This means that whether you have booked us for a small family gathering or a large party with three courses, tea and coffee, you have to be prepared for us arriving rather early. There are, however, benefits to having us on site from the outset; there is always a fully trained chef on hand to answer any last minute questions you may have and the rest of the team are available to help with pre-party preparations like laying tables and organising seating plans. We have many a testimonial when it comes to large and small private parties and we invite you to read these on the testimonials page of the website. We have far more in the office but these give a rough idea of how we have created and maintained a reputation for both great food and fantastic service. In fact, we believe that our repeat bookings talk for themselves.