Your wedding day should be one of the greatest days of your life and with all of the planning that is involved making this day the one to remember our team at Spitting Pig South West want to help make it that little bit easier.
Incredible Canapés, stunning starters, mouth watering main courses (including a superb roast), and delectable desserts, we really have everything to make your wedding breakfast special, but if you can't see what you really want then we can do something about it. At Spitting Pig South West, we go the extra mile to make your day extra special.
We make sure that your menu is finalised and ready to go well before the big day. On the morning of your wedding, we will be up with the larks a full six hours early so we can make absolutely sure everything goes like clockwork!
If your wedding continues into the evening then why not book one of our superb hog roasts for the evening reception? Choose a lamb or hog roast, it will prove to be a big hit with you and of course all your guests, as will our brilliant barbecue options. Wedding packages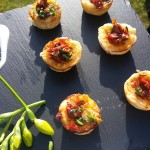 from Spitting Pig South West incorporate both wedding breakfasts and evening buffets, and that means that we can look after everything, so you can revel in the spotlight for the rest of your day and enjoy delicious food and our completely professional service.
It's easy to forget that weddings can be pretty stressful, what with the flowers, questions over the weather and whether food will go down well. Spitting Pig South West don't do flowers or forecasting but we can predict that the food will be perfect. Just another reason why your day will be totally magical!
Back To Menus
We pride ourselves in providing you with a first class service where all of your catering needs can be left safe in the knowledge that they will run how you want them to run on the day and we really do cover every area. Please call us today on 01452 527888 and let us send a sample of the wedding menus we offer but of course if you require something a little different to these menus, just ask, we are always able to accommodate.
Our wedding menus can include everything from a formal sit down meal with canapés, arrival drinks and the all important toast to the evening menu. We are able to offer a variety of different main course, starter, dessert options with salads or vegetables freshly prepared – if you call us today we can run through all of your requirements and provide you with a suitable bespoke menu just for you. After you've looked through the menu you can get in touch to discuss these further or maybe if you would like us to meet up in person to discuss your requirements in more detail or even provide a taster please just ask this really is all part of the service we offer. Once the meeting is over we will write up your own schedule for the day so you can see clearly exactly what we will be doing and when on the day and this schedule can be changed as many times as you wish leading up to the big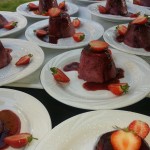 day and we will always be on hand to finalise any arrangements or answer any last minute questions you might have. On the day we will turn up as planned and all of the team at Spitting Pig South West will work with the schedule to your exact requirements to ensure everything is how you would like it.
We have catered for thousands of brides and grooms all over the country at any time of year, at their homes, manor houses, marquees, village pubs, community centres, holiday parks so please let us know your requirements today so we can assist with all of our experience in making your day extra special. The team at Spitting Pig South West based in Gloucestershire can be contacted by telephone on 01452 527888 or by email to [email protected] or you could even visit our website at www.spittingpigsouthwest .co.uk to view some of our sample menus or look through our long list of testimonials from many satisfied customers.