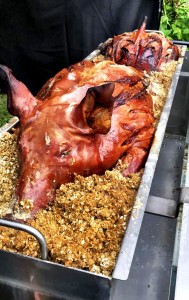 Is it time for a bit of an event in Coleford? Birthday, anniversary…or something a bit more special? Maybe you are planning an open event for any of the village's residents? Let's hope all eight thousand don't turn up! Or maybe it's a bit of a tourist event, to attract some of the many walkers and cyclists who love this corner of the forest?
If you are planning a hog roast Coleford function then it could seem like a bit of a daunting task. There's no need to worry though, because the hog roast chef is soon going to be your very best friend! The hog roast chef takes away all the hard work, worry and hassle of organising the catering for your event, so you can chill out, be sociable and have a fantastic time.
Of course, there's a bit more to hog roast Coleford event than you may think. It is after all one of the most versatile meals out there. It's a superb option if you are planning a marquee style party. Hog roast rolls are stupendously moreish, in fact hog roast it's brilliant for any outdoor function (sports functions in particular).
Unfortunately, you can't always rely on the weather when it comes to an outdoor hog roast Coleford event . This is Gloucestershire, not the Mediterranean, so perhaps an indoor event would be the safer option? Not that it matters, hog roast is as happy being enjoyed indoors as it is outdoors. In fact an indoor event allows you explore the more sophisticated side of hog roast: the stunning carved meat side of hog roast that makes for one of the best plated up meals of exquisite food you will ever enjoy. A bit of crackling and apple sauce and you are talking top restaurant quality food.
The Best Hog Roasts In Coleford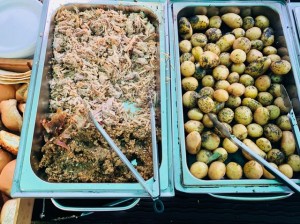 The style may be different but the attention to detail in the cooking is the same regardless of how it's being eaten. A Coleford hog roast chef provides the same unwavering levels of professionalism to the preparation of the hog roast irrespective of its eventual serving style. And what a preparation!
Have you ever seen a hog roast being cooked? It really is a sight to behold. A whole pig atop a mighty hog roast machine, slowly roasting away for six long hours. You may be wondering why it takes so long, but don't forget that we are talking a joint of quality meat here and good meat takes time to cook perfectly. Slow roasting of meat always produces great flavour and hog roast is a prime example of this. The meat itself is also of the highest order. The chef makes sure that only a quality pig from a reputable source is used, further ensuring the ultimate in taste.
Make your Coleford event that little bit extra special by shunning the boring old catering favourites and looking towards hog roast: the medieval catering classic that is becoming the new choice for twenty first century events. Just make sure there is somewhere for people to put their bikes and boots!