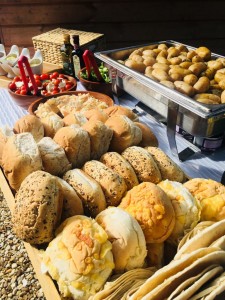 If you are looking for mobile event catering with a difference for your event in South Gloucestershire, the Hog Roast Hambrook team are able to provide it. Not only are we the leading hog roast suppliers in the area, we are also able to offer complete event catering solutions for any occasion.
No matter the scope or style of your event, we will have a menu that will be perfect for you, and what's more we will make it all from scratch in full view of you and your guests at your venue. Cooking our meat on-site allows our diners to see the remarkable slow cooking method for themselves and enjoy the succulent end results all the more. As the hog continually turns on a spit over the course of several hours, its natural flavour and juices are maximised, and with the expert touch of our hog roast chefs, our pork just melts in the mouth by the time it is ready to be carved and served.
A Delightful Dining Experience With Hog Roast Hambrook
Hog Roast Hambrook are an equally suitable catering choice if you require more diverse dishes or a more formal meal. We offer top-quality catering packages for weddings, private parties, corporate hospitality and public events taking place in this part of South Gloucestershire, with a wide range of options to suit all tastes and budgets. We put just as much care and attention to detail into devising the rest of the delicious dishes on our menus too and we freshly prepare everything on-site whilst the meat is cooking. Whether you require a second meat option, vegetarian, vegan or gluten-free dishes, or a broad spectrum of sides to please the diverse tastes of your guests, we are equipped to do it all.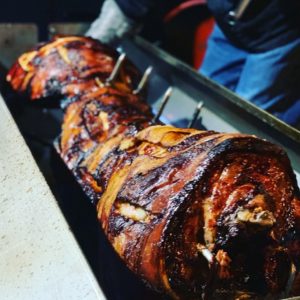 We will provide everything you need us to on the day, including a serving table, a catering gazebo and high-quality disposable plates and cutlery. We will handle all of planning and preparation, leaving you free to focus on other aspects of your event and spend time with your guests.
Hog Roast Hambrook are the ideal catering choice for any event in the area, thanks to the quality of our hog roasts, the diversity of our menus and our ability to make all of our food on-site to an excellent standard.