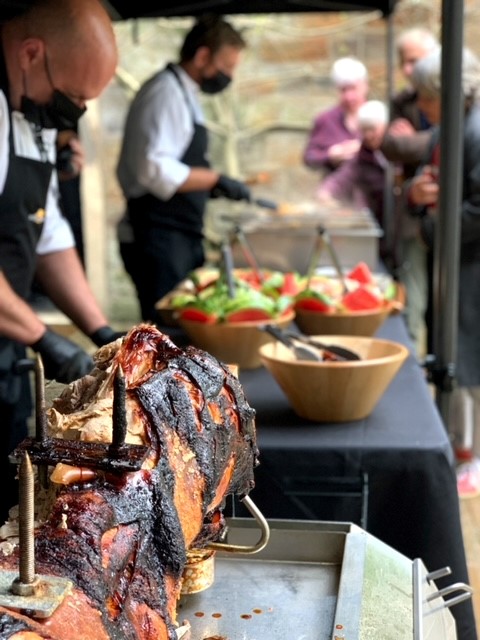 It's great cooking for people in Hereford, they're a robust town of people. There's always something to do here, from art and music festivals that go on through the year to sports clubs for football, rugby, and tennis. There are also archaeology events that I have even taken part in myself and walks organised throughout the county you will get to see some of the stunning veiws that are within this town (a must if visiting)- fitting for a place that's said to be named after the Anglo Saxon words "here" (army) and "ford" . Or, for a day out before a tasty roast, there's ten pin bowling and adventure golf.
That's why we enjoy catering for the locals so much – they really like to work up an appetite and there is nothing that I enjoy more than catering up a feast for my hungry customers and serving until they can eat no more, we always make sure we bring enough meat for seconds for our guests at hog roast Hereford because you can never be too sure if anyone has skipped breakfast so there may be a few of the adult guests that would like a second helping, so we are more than happy to assist with this to feed your guests till they are bursting at the seems! For a special occasion we can even roast a Hereford bull.
The Best Hog Roasts In Hereford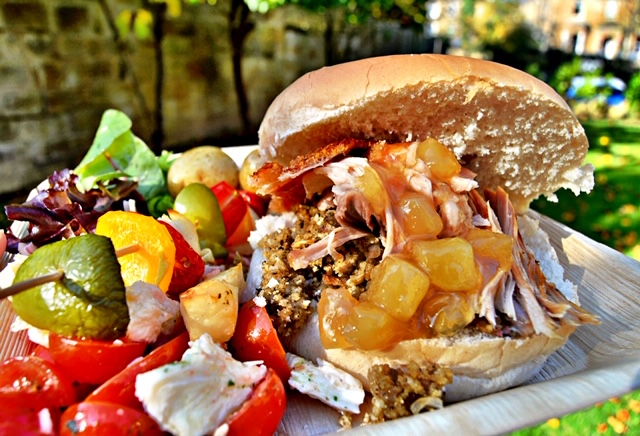 It's a well known fact that apples go well with roast pork. Apple sauce is a sweet yet popular accompaniment that is usually serve with or along side our hog roast Hereford pork sandwiches these days you can even buy pork pies that have a thin layer of apple sauce on top so when you bite in to it, it taste scrumptious and of course whole pigs are often roasted with an apple in their mouth for the scenic look. That's just one reason why here at hog roast Hereford we think Hereford is a great place to have a pig roast. The county itself has several acres of orchards, and there are great cider breweries here – Bulmer's, who make several well-known brands, and Weston's Cider just down the road, as well as several other independent local cider makers. There's even a cider museum! So we think that hog roast hire Hereford is the perfect place to marry up a succulent roasted pig, cooked in its own juices for around six hours, and some of the lovingly-prepared local cider hat goes down really well each and every time with our customers it seems to make the pig glisten in the light.
If cider's not your beverage of choice, there are local beer breweries too that offer more lovely choices. Hereford Brewery makes traditional real ale. They've recently changed their name from Spinning Dog Brewery, which reminds us of the fact that in history spit roasts used to be turned by dog-powered treadmill! These days, of course, no dogs are involved. With our modern machines the pig is roasted in an oven with gas burners, before being raised up for carving by our fully-trained chef. No one needs to turn it, which allows us to get on with preparing the rest of the meal. As well as the usual accompaniments of apple sauce and stuffing, our pigs come with as much or as little as you want – salads and buttered rosemary herbed potatoes, burgers and sausages that are fresh from our local butchers and are 100 percent meat, or alongside a buffet of your own.
As well as breweries, Hereford is full of history. There are lots of museums that are within this town, including The Old House, a beautifully preserved black and white house which contains a museum of Jacobean life. There's even a college that teaches the traditional craft of blacksmithing. The pubs reflect the history too, with evocative names involving Kings and Crowns. They're proud of their history, so traditional food with local provenance is a big thing in Hereford's pubs and that's why we love working with them – we source all of our meat from local producers. A traditional pig roast, in a traditional pub with a lovely beer garden, what could be better? Or if you're thinking truly historical, how about a roast using some of the famous hog roast Hereford beef instead, with horseradish and red wine gravy? This is one of our other popular meats and is a treat to the mouth.