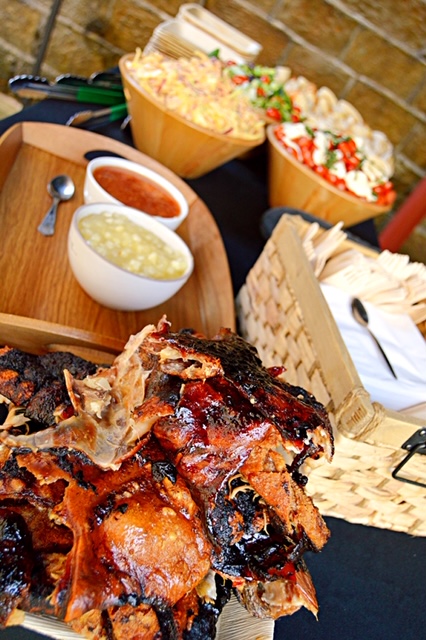 Finding a catering company who can meet all of your needs for your event whilst staying within your budget may seem at times like an impossible task, but help is at hand! Here at Hog Roast Huntington, we can provide inventive catering solutions that will be ideal for your event with plenty of options to suit all themes and budgets.
There is no better outdoor catering option that tucking into a beautifully cooked hog roast after it has been roasting slowly for several hours in full view of all of the guests, especially when it has been prepared by the most experienced hog roast caterers in the area. Our hog roasts always prove to be an incredibly popular food option at every event we cater for, whether it be a large-scale public event or a smaller private party. As well as pleasing pork fans, we also work hard to ensure that our food is suitable for all tastes, diets and occasions. We regularly refresh and update our catering menus, adding new and exciting dishes that make the most of the fantastic seasonal produce that is available locally. 
Modern Hog Roast Catering Menus With Hog Roast Huntington
Hog Roast Huntington menus are suitable for wedding receptions, private parties and corporate entertaining. We offer a choice of alternative meats, vegetarian and vegan dishes, and a wide array of freshly made sides, salads and sauces to choose from. All of our food is homemade and prepared from scratch on-site on the day. We are able to provide you with a completely personalised menu for your event if required and alter any part of it on the day to accommodate the individual requirements of your guests. We can cater in just about any setting in the area without deviating from our commitment to freshly prepare all of our food at the venue before the event.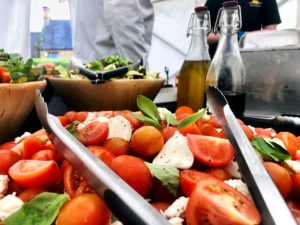 Hog Roast Huntington can offer you the best example of hog roast catering in the region accompanied by a modern and varied menu that will tick all of the boxes for your guests, all provided by a highly organised and attentive on-site catering team who will go the extra mile to give everyone a great dining experience.