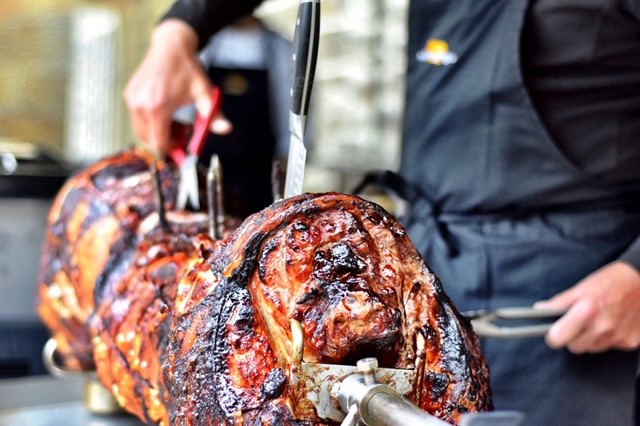 As well as a stunning 12th Century abbey, with the highest Norman tower in England, Tewkesbury is full of half-timbered Tudor houses in traditional black and white. Upper storeys overhang the streets, sometimes almost close enough to touch, giving a taste of what life was like in the Middle Ages. There's even what claims to be the oldest pub in Gloucestershire, dating from the 13th Century, as well as others in buildings from across the centuries.
In a great historic pub, pig roasting by hog roast Tewkesbury can only add to the atmosphere. Imagine sitting in the beer garden of a black-timbered building, with the smell of slowly roasting pork filling the air. The chef carves the roast and hands out succulent meat wrapped in bread rolls, with apple sauce and crispy crackling. We're sure even the most ardent historian would forgive our modern sage and onion stuffing, but if not there's always traditional hog roast Tewkesbury mustard. The original recipe dates back to the 17th Century, and it was even mentioned in Shakespeare!
The Best Hog Roasts In Tewkesbury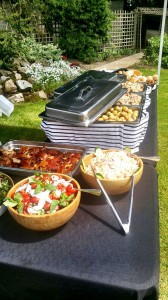 Here at hog roast Tewkesbury we love working in Tewkesbury. Pig roasting is one of the oldest forms of cooking, so our traditional roasts fit right in to a town that's been described as "a living museum of architecture".
Another great place for a hog roast Tewkesbury is the Medieval Festival. This is a great family event that sees visitors experiencing "living history" in an authentic medieval camp, before up to 2000 armoured warriors fight it out in Europe's biggest battle re-enactment. Our love for traditional fare meets people's love for history, so it's always great to do a pig roast for like-minded people. And after fighting out the Battle of Tewkesbury, the warriors will be grateful for a bite to eat! As well as the Medieval Festival, Tewkesbury hosts other great reason for a pig roast. There's the Winter Beer Festival, and what better way to complement ale than with a time-honoured accompaniment of roasted meat? Even if you're not into beer, it'll be good for keeping warm on a cold February day. There's also a Food and Drink Festival held near the Abbey, and the "Mop Fair", once a traditional "hiring fair" and now an excuse for people to get together and have fun at the funfair.
While our food is traditional, our methods are modern. Our roasting machines do all the work and cook the roast with gas powered burners. We're sure these days no one wants their meat to be cooked by a small boy turning the spit for hours on end, over an open fire. We take all our modern rubbish away too, helping to preserve the image of a beautiful Medieval town. With friendly people and great pubs, at Spitting Pig we think Tewkesbury is a fantastic place to host a roast.