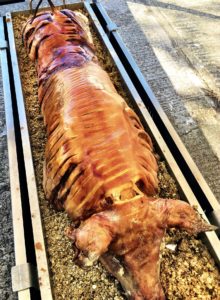 If you like the sound of a traditional cooking technique combined with versatile, modern menus, then you will love Hog Roast Winchcombe's food. The hog roast cooking method is just as old as the town of Winchcombe itself and dates all the way back to ancient Roman times. We believe there has never been a better way of cooking pork- or any meat for that matter- and as soon as our diners taste the results, they all wholeheartedly agree with us.
Slow-roasting delivers an unrivalled level of flavour and succulence and merging it with our contemporary menus and advanced cooking equipment, is the winning formula that makes our food ideal for any occasion. Because we have such a flexible approach, we are able to cater in any environment and style of venue, Our Hog roasts aren't just suitable for large-scale outdoor events either- we can cater just as effectively for more intimate indoor gatherings.
The Best Hog Roasters In All Of Winchcombe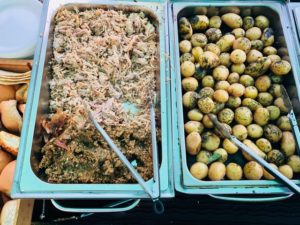 Hog Roast Winchcombe's premium pork may be the most popular option on our menus but it is far from the only thing we offer. We can also treat you to a variety of alternative slow-roasted meats and tasty vegetarian dishes. If any of your guest have particular dietary needs, we've got it covered, as we are able to alter any of our dishes to meet their individual requirements.
Whether you opt for one of our bountiful buffets or more formal 3 course meals, every element of your chosen menu will be made from scratch at your venue on the day of your event. All of our ingredients are carefully selected from the best local fare available, including our ethically-reared meat, organic fruit and vegetables and free range dairy products.
If you are planning a more formal occasion, such as your wedding reception, you can also indulge in some of our individually handmade canapés, which will be presented to you and your guests by our own events team, who will also provide full table service if you opt for a sit down meal, rather than a buffet.
Hog Roast Winchcombe's winning combination of traditional cooking techniques, modern menus that everyone will love and ability to cook in any location, makes us the ideal choice for any event in the Winchcombe area.