Yesterday, our Hog Roast Chippenham team had a fun time catering a teenager's birthday party. We provide tasty food for all kinds of events and birthdays are always popular of course, and these days it seems more and more young people are asking their parents for a hog or spit roast to be featured at theirs. For Jude's 14th birthday, we were asked to cook a hog from scratch in the back garden of the family home, to make into scrumptious pigs in buns for 40 guests.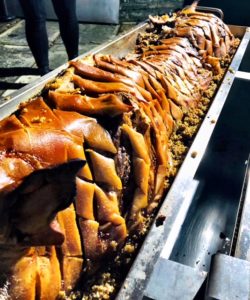 When we make our famous Hog Roast Chippenham pigs in buns (which you may know as hog roast rolls), we lovingly prepare the meat by scoring it all over, adding water and lots of salt (the latter bit turns the skin into crunchy crackling) and then it roasts away for hours on end, until we get a crispy outer and soft and tender insides. After a short rest, we slice off the crackling into trays, and then carve away to fill more trays of juicy pork, which are then both ready to be crammed into the soft bread rolls and wraps that we bring along. Once done so, we top with our homemade duo of apple sauce and sage and onion stuffing, and hand over to the guests to add condiments if preferred, and then they are devoured with relish. 
On the day of Jude's birthday party, which was a day after his actual birthday, our Hog Roast Chippenham team arrived at the home venue in the morning as we would be serving at lunchtime after the hog had roasted for a few hours. We set up our equipment in the large back garden, near to the outside heaters. Once the hog had been prepared and was cooking, we would warm up in no time but we were happy for some heat on this chilly December day while it was being prepped.
Sometime later and the guests arrived to wish Jude a happy birthday and to dig in to our delectable pigs in buns. By the end of our service, after many servings of seconds or more, the pig had been stripped clean.