We here at Hog Roast Forest of Dean love to cater for any and all events but this weekend we were catering at a particularly lovely event. It was a new job celebration for Liam who after finishing university had struggled to find a job that would lead to his dream of being a graphic designer. Now he had finally made a move on the career ladder his family were throwing him a party to celebrate!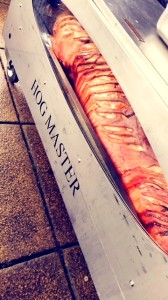 Liam had recently graduated but since moving back home had found himself in a slight rut as he could only find a job at the local supermarket and hadn't been accepted for any of the graduate roles he had applied for. However, after months of hard work and applications and interviews he had landed a role at one of the top graphic design firms in the country and his parents were just as delighted as he was!
Liam's dad, Alan, had organised the party as he felt his son really deserved to kick back and enjoy himself after months of stress. Alan told us he wanted no expense spared and ordered a full Hog Roast Forest of Dean menu 1 which included a whole hog that we slow roast on site. This was to be served in freshly baked bread roles that would be packed full of lots of homemade applesauce and crunchy crackling. Alan agreed this sounded fantastic and joked that he would be expecting Liam to pay him back with another Hog Roast Forest of Dean when he gets his first pay check!
We arrived at the family's house and got set up putting the hog onto cook right away. We always like to leave the meat cooking as long as possible as that's what gives it the beautiful tenderness and makes it melt in the mouth. After a couple of hours everything was ready and just before serving Alan decided he wanted to make a toast. He mentioned how proud he was of his son and said he never doubted him after watching him put in so much hard work. This speech actually brought a tear to our eyes as it was so lovely to be a part of such an intimate family moment.
The emotional moment didn't last for long however as the guests were hungry and so descended on our serving station to get their fill! Liam and Alan thanked us for our fantastic food and Liam even said, without any prompting from his dad, that he would like to book in for a Hog Roast Forest of Dean of his own as soon as he got his first wage to say thank you!
What a lovely day, and congratulations on your new job Liam!