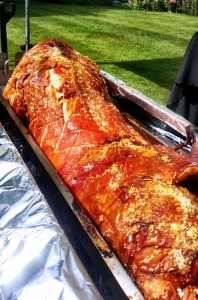 Cirencester shows the marks of different periods of history. Even the name is said to come from both Roman and pre-Roman roots. It was an important Roman town and still shows signs of a buried Roman amphitheatre. Later, it was the site of the Battle of Cirencester, believed to have been between warring Anglo Saxon Kings. The Normans built the Abbey, and the Tudors left a legacy of fine houses in Cotswold stone. The same stone can be seen in many of the pubs, along with other period features like exposed beams.
At hog roast Cirencester we believe that the pig roast is the perfect marriage of historical and modern. A traditional and healthy method of cooking, roasting meat in its own juices, meets a modern and hygienic one. Instead of meat being turned over the dust and smoke of an open fire, our machines use gas burners and stainless steel for easy cleaning. That's why it's great cooking pig roasts in Cirencester – they have the same pairing of the old and the new.
Modern elements feature too. A converted Victorian gallery houses modern art, and the same pubs that boast exposed beams do so along side flat-screen TVs where the punters can watch the football. There's nowhere better to have a pig roast than in a pub where the old nestles alongside the new. The crowd may be shouting at the telly rather than in an amphitheatre, but we like to think that the love of sport and the roar of the crowd are the same whenever you're watching. Old-fashioned roasted pork is served in soft floured baps, with the traditional accompaniments of crispy crackling, apple sauce, and sage and onion stuffing. Alongside this are sausages and burgers, vegetarian options, salad and potatoes.
The Best Hog Roasts In Cirencester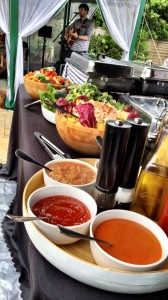 It doesn't have to be pork that's roasted. The Romans introduced sheep farming, and in the Middle Ages Cirencester's merchants made their wealth from it too, and the associated wool and cloth trades. In fact it might be more traditional here to go for roasted rosemary lamb, with mint and a mustard and dill sauce. The area even boasts its own rare breed of sheep, called the Cotswold Lion. What could be more appropriate when watching the football with hog roast Cirencester?
For those who like to work up an appetite, there's the opportunity to take part in sports as well as watch them. There's a leisure centre with a swimming pool and fitness centre, and plenty of sports clubs. For those who feel a bit more outdoorsy there's Cotswold Water Park, where you can take part in all sorts of outdoor sports from canoeing to water skiing to paintballing. There's nothing better than feeding a group who've worn themselves out, exhausted but exhilarated, and watching them demolish a roast that's been lovingly prepared for them. There are certainly never any leftovers!
That's why at hog roast Cirencester we enjoy being in Cirencester so much. There's plenty to do to keep the customers occupied and get them ready for a good meal, and the wonderful combination of old and new makes us feel right at home.