Our Hog Roast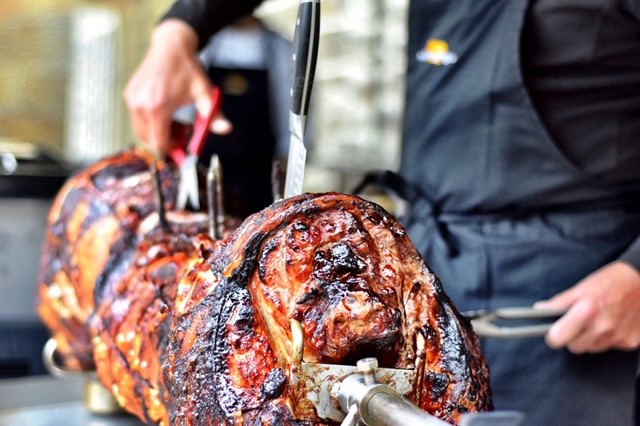 experts work very hard to satisfy all of our customers and their guests, regardless of the type of special occasion you need catering, its formality or the number of people you may be inviting. From corporate functions like conferences, training days and workshops to private parties including birthdays, weddings and christenings, both casual affairs and formal gatherings, and whether there will be just a few guests or several hundred, we're experienced in it all so we can help to make your particular event a resounding success from start to finish.
Providing delicious homemade food is what we're renowned for here at Hog Roast Cullompton but we're also known for our top-notch, unbeatable customer relations and service with a smile. Our professional team members are proud to deliver an unforgettable experience no matter what you're celebrating or commemorating, and with plenty of choice and variety on offer within our menus, we've got you covered every which way. While this may well be a sumptuous hog roast centrepiece – our signature food that will have you and your guests queuing up for seconds or more – we can instead cater with alternatives and we can also create a menu of multiple courses to include canapés, starters, sides or desserts – or all of the above!
If you'd prefer us to serve spit-roasted meat instead of a hog roast, we can impress with a whole English lamb, studded with rosemary and garlic and accompanied by Yorkshire puddings and mint sauce, or sirloin of beef with mustard, Yorkshires and a red wine gravy, or free-range chickens or turkeys if you prefer (the former is rubbed with thyme and salt and served with our sage and onion stuffing and chipolatas and the latter features sage butter, stuffing and cranberry sauce). Either way, you can enjoy yours together with vegetables and potatoes, fresh salads and coleslaw, or floury wraps and rolls.
If you also need any dishes for diets, just let us know when you book and we'll walk you through our many possibilities. Whatever your wants and needs for your next party or event, Hog Roast Cullompton are the ones to call.