The reason Hog Roast Dursley are such a popular choice for wedding catering in the local area isn't just thanks to the unrivalled quality of our slow roasted pork- it's also because of our varied modern menus that offer something for everyone. Because we have so much to offer, sometime our clients opt to not have one of our classic hog roasts at all, which was the case for the last wedding reception we had the privilege of catering for!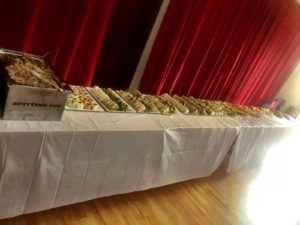 The new Mr and Mrs van Breda chose to celebrate their nuptials with an elegant wedding menu and evening buffet with 70 of their nearest and dearest at Hamfields Leisure. The Hog Roast Dursley team, led by catering manager Lee, got the chance to show how truly versatile we are by providing a whole roasted salmon, coleslaw, tomato and mozzarella salad and our chef's own special recipe pasta salad, all served with baby new potatoes. The couple also made sure their vegetarian guests would be well fed, thanks to our veggie and halloumi skewers served with pitta breads and tzatziki dip!
As always, we were hard at work making everything on the menu from scratch at the venue and made sure every detail was absolutely perfect by the time the happy couple and their 70 guests arrived. Everyone loved the elegant menu and were very glad they could continue to enjoy our food well into the evening! The newlyweds asked us to prepare a tempting selection of sandwiches, along with some more of our incredibly popular coleslaw, as well as some freshly made scotch eggs, vegetarian quiche and some classic buffet favourites!
Our evening buffet was just as well received by everyone as our main menu, and the newlyweds were thrilled not only with the high quality food we had provided throughout they day, but also our precise timing and level of service!
Lee and the team were delighted that everyone had such as nice day and enjoyed the food so much, and the Hog Roast Dursley team would like to wish the new Mr and Mrs van Breda best wishes for the future!