Hog Roast Forthampton is made up of a great team of dedicated professionals, including highly-trained and experienced chefs and catering assistants who always go the extra mile to ensure that all of our customers and their guests get to enjoy what we create. Our homemade food is something we're very proud of, and while that's true for our signature food of traditional hog roast centrepieces of course, it's also true for everything else that we make too, from spit-roasted alternative mains to dishes that cater for special diets, as well as our own selection of standalone menus and our supplementary options of canapés, starters, sides and desserts.
New customers to Hog Roast Forthampton are often surprised that we make so much than hog roasts but we've always recognised the necessity to provide a considerable amount of choice and variety, so regardless of the type of special occasion that you're planning to feature delicious food, we offer something to satisfy everyone you're inviting. We're often asked to cater birthday celebrations, wedding day meals, corporate gigs, charity events and much more, so no matter the occasion, we have mouth watering homemade food to suit both you and your guests.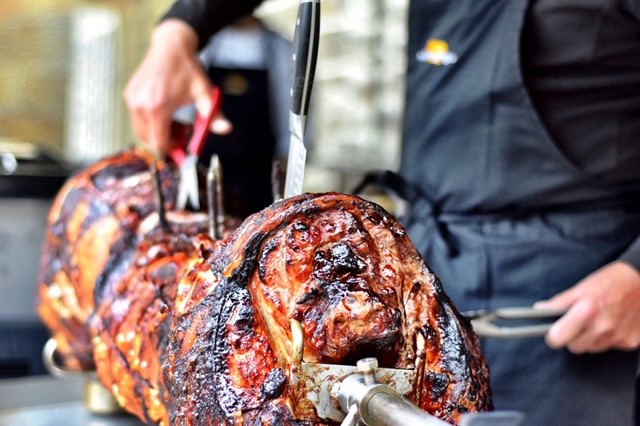 If you prefer a spit roast meal made instead, we can cook up a storm with lamb, beef, turkey or chicken, or perhaps even something a bit more unusual, and whether you'd like to enjoy your meat with trimmings, rolls and salads or as a sit-down plated meal together with your choice of seasonal vegetables, potatoes and the same lovely trimmings, we've got you covered. Fancy adding a side or two? We have some scrumptious ones available, like spicy sweet potato fries, mac and cheese or corn cobettes, as well as several kinds of salads and potato options.
We're often asked to make dishes for diets, so whether you're inviting vegans, vegetarians or those with a particular food intolerance or allergy, as long as we have advance notice, our chefs will happily whip up a suitable, tasty alternative, fresh on the day. For all your catering needs, as you can see, Hog Roast Forthampton are the ones to call.