The Spitting Pig South West had a ball at a wonderful wedding reception recently, which actually featured several guest carvers, interestingly enough. Instead of roasting a whole pig for this event, we cooked some lovely pork carving joints instead, using one of our hog roast machines, and we partially carved them once they had roasted to perfection. Nine of the wedding guests then had the challenging task of finishing off the carving at the tables, with the succulent meat to be served to the bride and groom and the rest of the guests. Armed with a carving knife each, the enthusiastic chaps donned their chefs' hats and aprons and made it look so easy that our chefs could be out of a job soon! They did incredibly well and we were highly impressed with their carving skills. Our hog roast machine may have done most of the hard work but these guys should at least take some credit for entertaining the crowd and helping to create a fantastic atmosphere.
This was such a fun personal event, where each table had sharing bowls of the hog roast's accompaniments. We offer our customers plenty of menus to choose from and a variety of food options and when it comes to accompaniments, you could have salad leaves, tomatoes, coleslaw, warmed new potatoes or pretty much anything else your heart desires. When it comes to wedding parties in particular, we know how important it is for the bride and groom to have the menu they've been dreaming of for their special day. Whether that's several courses for a swanky sit-down meal, a spit-roasted turkey, or our scrumptious pigs in buns for an informal affair (or even your own bespoke menu), we can do you proud, impress your guests and satisfy everyone's hunger with the tastiest food you could imagine.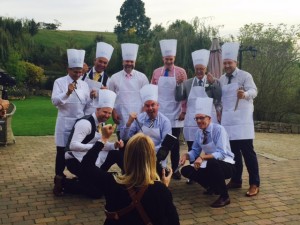 The guest carvers struck a MasterChef pose for a photo after we gave them their team briefing and that's a great memory I'll remember for a long time. I've no doubt that the guest carvers themselves and the bride and groom and the rest of their guests will never forget such a special occasion to celebrate the marriage of two of our lovely customers.