Whether it's in aid of your favourite charity, to achieve a fitness goal, or even just for an adventurous day out with the family, tough mudders are the perfect activities for thrill seekers; as long as you're brave enough to face your biggest fears, that is. With many obstacles designed to invoke primal human terror from things like fire, heights and water, these assault courses make for a gruelling experience, but the rewarding feeling upon completion is so worth it – or so we have heard anyway!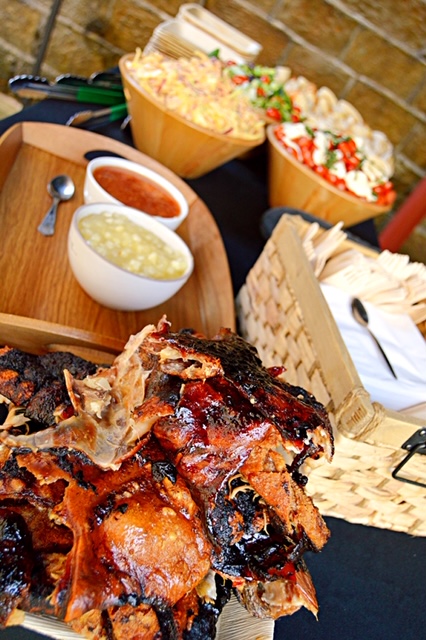 Recently, Hog Roast Abbeymead was approached by outdoor enthusiast, Alexander who had been looking for a mouth-watering feast that his 75 participants could enjoy upon the completion of his tough mudder course. As always, our team was more than happy to help out; and anticipating a wave of starving guests, our catering manager recommended serving up the southern slow roast menu which offers a hearty buffet of classic American-style dishes.
Heading off to the remote location in the early hours of the morning ensured that Hog Roast Abbeymead arrived on-site with plenty of time to spare before the meal was set to be served. Once safely housed under the catering gazebo, which shielded both them and the precious ingredients from the bucketing rain, the catering crew made a start on bringing the menu to life.
As the meaty trio of BBQ pork butt, Texan 24 hour beef brisket and cajun spiced whole roast chickens sizzled away, the Hog Roast Abbeymead team whipped up a selection of tantalising sides while awaiting the arrival of the adventurers at the finish line. After a few hours of crawling through mud, climbing slippery walls and braving an all manner of trying obstacles against the wintery weather, the participants slowly made their way to the buffet table.
At Hog Roast Abbeymead, we're not ashamed to admit that the closest we'll get to fire is when using our trusty Hogmaster machines, but our team excitedly cheered on the participants from the sidelines. Chilled to the bone and starving but still smiling, the participants were grateful to receive a cosy blanket and a plateful of soul-warming foods after facing one of the country's most challenging courses.