As the world takes its first steps back towards normality, Hog Roast Bulley has been busier than ever as we aim to help everyone with their catering needs.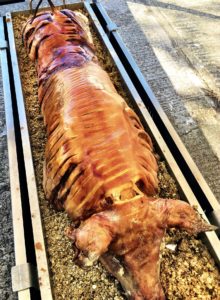 One of our more recent bookings came from a small business owner, Andrew who wanted to welcome his employees and customers back with a bang, and as a food lover, he believed there was no better way than with an authentic hog roast. Well, what can we say, except for, great minds think alike! If you ask us, the time-served tradition that is hog roasting is suitable for any and all occasions. So when we received Andrew's request, our team knew exactly what to do.
With so much on his plate (pun not intended!) with the re-opening of the store, Andrew was grateful to have the Hog Roast Bulley team on hand to take care of everything from supplying the cutlery and food, to cooking and serving it. Keeping things simple, the client had chosen our classic hog roast menu from our range of catering packages, which is perfect smaller events.
Preparing for the lunchtime rush, the Hog Roast Bulley team arrived on-site with plenty of time to spare. As always, the crew's first course of action was to pitch the catering gazebo in the car park and set up the hog roasting machines, which allowed them to effortlessly cook a full-sized pig in a few hours flat. To give the meat a wonderfully, in-depth flavour, they scored the skin and rubbed it down with salt before immersing the pig in our homemade savoury stuffing.
While the meat sizzled away, the team took the opportunity to set out the condiments, rolls and wraps alongside a tower of disposable cutlery and crockery, and with the tantalising scents from the spit roast filling the air, people began to queue for their lunch. Signalling that the feast was ready to be eaten, the Hog Roast Bulley catering crew began to carve up the fork-tender meat which they piled into the gluten-free rolls alongside the crispy crackling and stuffing, to be devoured by Andrew's happy staff and customers.