Are you thinking of hiring a hog roast machine so you can DIY just like our experts? With Hog Roast Dartmouth, it's so much easier than you may think, as our equipment is really simple to use and a rental includes the expertise of one of our friendly chefs when we drop the machine off at your venue. Whether you fancy cooking up a storm for your friends or family in your back garden or you're a professional caterer yourself looking to branch out into this amazing way of cooking, a hog roast machine hire with us is the way to go.
Our all-inclusive price includes drop-off to and pick-up from your chosen location, which can be just about anywhere you want, as our top-quality, stainless-steel machines don't need mains electricity as they use gas bottles. The price also includes that gas of course, as well as our chef showing you exactly how to use our equipment and how to get the best out of it, and in no time at all, you can look like a pro too and cook gorgeous food that everyone will love!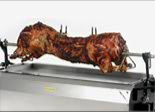 The machines that we hire out are the ones we use ourselves and we designed them and build them in our own factory. We have several roasters in our range, which are all highly versatile and can cook so much more than a hog roast, as we have attachments for you to spit-roast or barbecue if preferred, and you can cook additional food inside too, like potatoes and vegetables – in fact, you can cook anything you would normally cook in your home oven. You can cook an entire meal in one fell swoop if needed, with the meat sizzling away atop while the rest of the food cooks inside.
We also designed our Hog Roast Dartmouth hog roast machines to be lightweight and easy to move around, which is an added bonus if you need to transport your rental machine elsewhere, and we're often told that they're a joy to use – which we have to agree with! For your DIY, call Hog Roast Dartmouth and we'll help you to cook for others with the best equipment as well as the best advice.