At Hog Roast Dickens Heath many of our events are usually to mark a special occasion or event already come to pass. A wedding reception, a job promotion, an office reward and the like. But when we were approached by Lucy to help put together her sister's special birthday shower we were delighted to share in the excited anticipation of a new little life to come. For this little piglet to be Hog Roast Dickens Heath couldn't have put on a better show!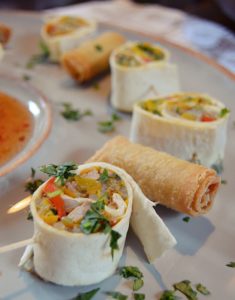 Mother to be, Jane, was welcomed by her many friends and family members along with a rotation of delicious canapés thanks to planning from sister Lucy and Hog Roast Dickens Heath's best catering manager. It was a delight to see everyone just sharing in a joyous moment of new life, and even better still with the great tastes of Hog Roast Dickens Heath to keep the party going. It seems too that we have a future fan in the making too as Jane excitedly told our catering manager that the littleun seemed to be kicking with every bite of our famous fresh pulled pork rolls!
The highest compliment of all, if you ask us. If the little one wants us back anytime we certainly won't hesitate to provide!
The day was marked by a lovely buffet served up by our catering manager as Jane was admonished with gifts and adoration from all around her. The hog roast went down a treat as did the many sides we had for serving. In fact we wouldn't be too surprised if there were a few extra "food babies" on show afterwards with how well our chefs' specials went down amongst the crowd! We are always best complimented simply by how much food is hoovered up, so we were certainly delighted to be packing up very few leftovers.
From all at Hog Roast Dickens Heath we thank Lucy for bringing us into such a wonderful occasion and we wish Jane and husband Sean all the best for the future of their new-born. And if they're ever kicking up about more pork roasts you'll of course both know exactly who to call!