Christmas, the season of giving, inspires acts of kindness and generosity that can truly make a difference. In the true spirit of the looming festive season, Rachel and a dedicated group of event planners embarked on a mission to organise a fundraising event that would not only raise life-changing funds but also spread awareness for a fantastic charity. The chosen theme for this heart warming affair was 'Winter Wonderland,' inspiring a magical setting designed to captivate hearts and encourage generosity.
The organisers spared no effort in transforming a spacious venue into a magical grotto, complete with real-life reindeer, glistening fake snow, and an abundance of twinkling lights that rivalled the glow of a Christmas tree. To enhance the enchanting atmosphere, Santa and his elves, talented face painting artists, and musicians were brought in to create a truly authentic experience for attendees. The event was a visual spectacle, leaving visitors in awe of the magical displays.
Amidst the festive wonders, guests were treated to a variety of booths offering handmade goods, alongside drinks stalls where attendees could raise a toast to the spirit of giving. All profits from these stalls, along with the ticket sales, were dedicated to the chosen charity, reinforcing the event's noble cause.
To ensure that every guest was not only entertained but also well-fed, Rachel turned to Hog Roast Poole, the South West's answer to top-quality catering.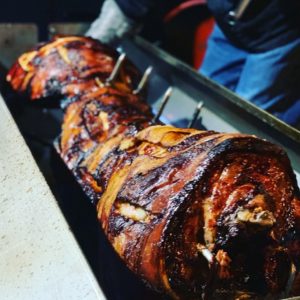 Keeping the menu simple yet utterly delicious, Hog Roast Poole served our trademark hog roast rolls, featuring succulent meat, perfectly crackled skin, and aromatic sage and onion stuffing, all topped off with a blob of applesauce. For the non-meat-eaters, there were tasty grilled veggie and halloumi kebabs, ensuring that every guest's culinary preferences were catered to.
To add a touch of Christmas magic to the menu, Rachel requested Hog Roast Poole's homemade mince pies, served with indulgent brandy cream, along with non-alcoholic mulled wine that warmed the hearts of the attendees.
The result? An overwhelming success! Our food was so popular that by the end of the event, not even a crumb remained. Rachel was thrilled with the response, and, most importantly, the event achieved its goal, allowing her to make a significant donation to the chosen charity.