There are plenty of reasons why you should choose to hire caterers for your upcoming event or party, and not least to save you some of the stress and give you more time to enjoy the special occasion together with your guests, but if you also want value for money, tasty homemade food and top-notch service to boot, Hog Roast Ross on Wye is the wisest choice you can make.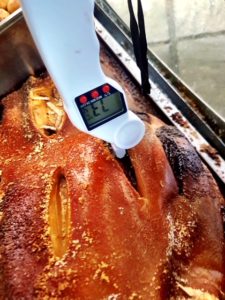 We've spent many years perfecting our menus, which not only include sumptuous hog and spit roasts but also barbecued and marinated meats, additional and alternative main courses and even handmade canapés and desserts. Our dedicated chefs and team members always go the extra mile when catering for our customers and their guests and nothing is too much trouble, so whether you want to create your own menu, need help from us when doing so or if you'd prefer to interchange items between menus to suit your needs, just let us know and we'll be more than happy to help.
When Eleanor asked Hog Roast Ross on Wye to cater at a local retirement home, it was to celebrate one of the residents turning the grand milestone age of 90. Eleanor, the manager, had asked Reg what kind of food he'd like served on the day and he wanted to celebrate by trying his first ever hog roast – and a Hog Roast Ross on Wye hog roast at that!
On the day of the party, our chef and catering assistants headed to the retirement home and set up outside in the lovely grounds. Before long, we had a centrepiece hog sizzling away, which it would do for several hours while we watched over it.
For this very special occasion, Reg had asked for us to serve the meat with a selection of seasonal vegetables, new potatoes with herbs, homemade apple sauce, stuffing and crackling on the side, and all smothered with our delicious homemade onion gravy. Nearer to the time of service, we freshly prepared the potatoes, carrots, green beans and Brussels sprouts, and they were soon cooking away inside the hog roast machine while the meat cooked above.
By 4.30pm, we had a great feast prepared and by the time we had carved the crackling off and sliced up the meat, the forty guests were queuing up for a taste of heaven.