We were just saying the other day how quickly this year has gone! We have been mega busy all year round and this year has just disappeared. We have catered for lots of new customers this year with a hog roast Seaton and many have booked us again and that is pretty much how it goes these days. Sunday we catered for a customer who has booked us previously several times in fact and this time it was for Julie's husbands 50th and she wanted a hog roast Seaton to help celebrate his special day.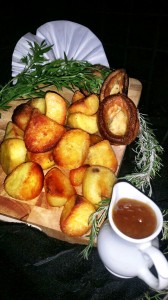 We had been asked it we could cater for 100 and the event was held in Julie's lovely home a place we have been several times before. After we had a chat to Julie we began. The first job was to place the meat on the machine and the meat of the day was lamb. A nice piece of lamb was left to slowly cook to retain the goodness and as it cooked we then began to prep the rest of the food. We drizzled some parsnip and potatoes in oil and set them to cook and then we set about making some gravy using the juices from the meat our gravy is unlike any other we use the juices from the meats and it is always a winner at any hog roast Seaton event.
We layered the tables with some quiche and a cheese board and made a lovely poached salmon, which was dressed beautifully using cucumber and lemon a bit of everything to please everyone. As the party began we were ready to serve the lamb just fell apart and the guests were saying how it just melts in the mouth our lamb is so tender and we get told this time and time again but we love to hear the compliments from guests. Julie came over and said that as always we had done an amazing job and her husband was speechless yet again he said we never fail to amaze. We had a lovely day with people we now class as friends and Julie was already asking of we could come and cater again in the new year!