Now that Autumn is upon us and the colder months are just around the corner, you can still enjoy a warming hog or spit roast from our acclaimed catering services. At this time of year, what better way to feed your guests than with our comforting winter warmer menu, whether you're having a small gathering or a huge event. We can provide hot accompaniments to the meat with your choice of vegetables (and potatoes, too, if preferred), which we serve on good quality disposable plates at informal functions or on real plates for formal ones. You may still prefer to have a salad dish served with your hog roast Bideford, which we can still do outside of spring and summer of course, but we find that many of our customers favour something a bit warmer in the cooler seasons.
We can cater outside in the chilly air at any time of year, which we did for Yvette and Daniel's engagement party yesterday, despite the dreary weather. Regardless of the cold, wind and downpours, we easily catered inside one of our marquees at the golf club venue. The couple asked us to supply our winter warmer hog roast Bideford, together with roasted parsnips and butternut squash, and a vegetarian option of stuffed peppers for one of the guests.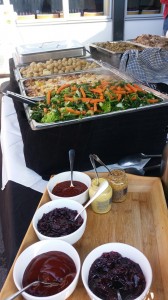 The day of the party, we battled our way through the wind and rain to set up the marquee, and once it was up and we dried off, we set to work on prepping the meat. For the 40 guests, we'd brought with us a medium-sized hog, which would provide more than enough for everyone plus leftovers. This beast took over 5 hours to slowly cook to perfection and once it was done, and the guests piled into the marquee to get away from the awful weather, we served plate after plate of lovely, warming meat and veg to some very grateful people.
If you have a party or special event coming up, or want to celebrate Halloween or Bonfire Night with a hog roast Bideford, don't forget to ask us about our winter warmer menu. Nearer Christmas, we also offer a seasonal turkey menu, with mince pies and hot mulled wine!