We had been looking forward for a long time to the event we hosted at the weekend, a Wedding! The day was planned months ago and quite a big event as we catered a hog roast in Holsworthy for one hundred and fifty people. We were more than confident as we set off and extremely excited as we were catering next to a castle in the most adorable countryside.
As we arrived we were met by the brides father and he showed us the area that we could use and we ran through the menu just to double check with him as he had been very hands on in helping organise this wedding. And off he went to the meet his daughter to take her to the church and we began…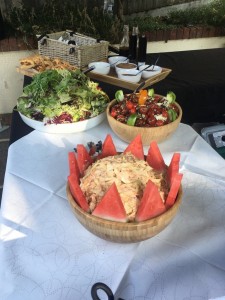 Two huge rows of white tables were already placed out ready for us as was a large table to put the hog roast Holsworthy on so we placed the machines at the top and placed the two pigs on the machines and began to unload the huge amount of food we had brought and our staff were as always on top form. The menu of the day was a hog roast in Holsworthy with lots of crispy cracking. Our pork cooks to utter perfection on our high tech machines and does the work for us! Along with the pork we were serving applesauce, mango chutney, garlic sauce – our staff were busy preparing these on site. Roasted potatoes in spices were also requested and plain potatoes too along with a few salads and fresh buns.
An hour or so passed and we were just about done as the wedding party arrived. As the guests took their seats and the speeches were made we had the meat carved and ready to serve. Our waiting staff looked immaculate in their pristine white aprons and chatted to the guests as they served, everyone was very impressed. The Bride and Groom came over to personally thank us and said it was without a doubt the nicest food they had ever tasted! Now that is what we like to hear! We had such a lovely day and left some menus on the tables for guests to take if required; I'm sure we will get a few orders as guests were asking as we served. Such a lovely day and a lovely couple we wished them all the very best as we left and felt very content knowing we had done a very good job as always.