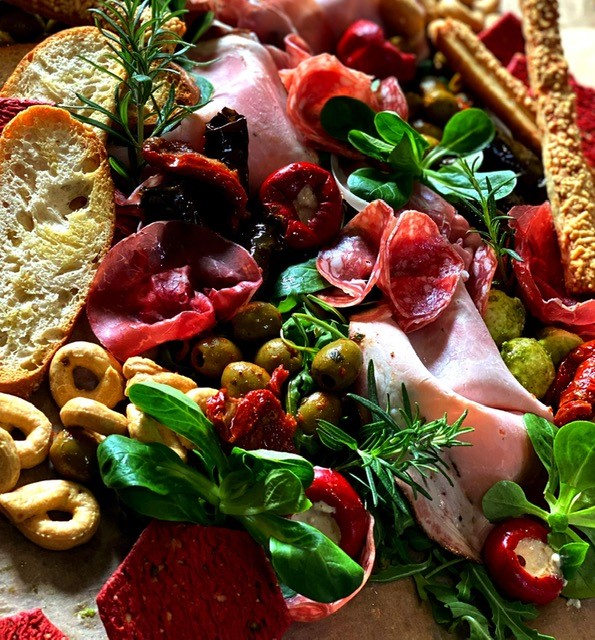 When it comes to such a major milestone in your life, you and your significant other deserve a menu that lives up to the occasion. Not only that, you also deserve food that suits your tastes, the flexibility to please all your guests, and reliable, creative caterers who can serve food with a flourish and exceed your expectations. Your reception doesn't have to be a grand affair for the food to be special, nor does it have to be within the confines of a traditional function room for you to have the calibre of catering that you want. Hog Roast Bristol specialise in outdoor wedding catering on any scale, and we offer tailored menus in a range of styles.
Hog Roast Buffets And Antipasti Platters
If you want a more relaxed yet stylish outdoor wedding menu, you can choose one of our classic hog roast buffets featuring a signature whole pig served with all the trimmings, along with vegetarian and vegan options, and a range of sides and salads to choose from. For a great sociable feel whilst your guests get together to celebrate your wedding, we can also provide artisan antipasti sharing platters for everyone to enjoy.
More Formal Hog Roast Bristol Wedding Menus
If you want to pull out all the stops for your big day, we can create a chic sit down meal featuring 3 delicious courses befitting to the occasion with enough choice to satisfy all your guests. Our sumptuous starters include beetroot carpaccio, homemade soup, smoked salmon, and Gressingham duck, followed by your choice of two different slow cooked joints of meat, freshly made sides and options for different diets. Your Hog Roast Bristol wedding menu can be topped off with a range of decadent desserts including vacherins of strawberries and chocolate torte.
Canapes And Drinks Receptions
We can greet your guests in style with platters of our individually handmade canapés, offering flavours and textures that will appeal to everyone. A perfect way to start your celebration whilst everyone raises a glass to toast the happy couple. We can also dress and serve your wedding cake and provide a team of attentive events staff to provide exceptional service to you and your wedding guests.