So, you've just gotten engaged to the love of your life -congratulations! Naturally, one of the first things that you're going to want to do – after sharing the big news, of course – is set the date and crack on with the wedding preparations. But unfortunately, planning for your big day is often far easier in theory, than it is in reality. This comes down to a few things.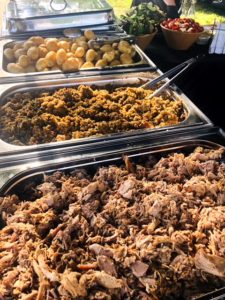 For many, the stress of having to make everything perfect is hard to manage. And then there's the overwhelming checklist of tasks to complete before the date arrives; including finding a skilled catering service and securing a venue. Understandably, this can all seem very daunting for newlyweds-to-be.
On what will be one of the biggest days of your life, though, the last thing you'll want to be dealing with is any mistakes, slip-ups or slow-thinking catering staff. Which is why it's so important to find a catering service who fully understands your needs – like Hog Roast Badgeworth.
If you place your booking with us, we promise you a completely smooth service from start to finish, courtesy of our time-served team who have been dishing up spectacular hog roast feasts for nearly three decades now! The most important thing to Hog Roast Badgeworth is making sure our clients are happy, and we'll do everything in our power to surpass your expectations, guaranteeing you an unforgettable occasion.
With us looking after your wedding breakfast, you'll never have to worry about fussy eaters, dietary differences or ensuring that there's enough food to go around. We always make more than enough grub, which allows everyone the opportunity to go back for second helpings, and trust us, they always do! Plus, all of our menus are fully inclusive – though if you do have some very unique requirements, we are happy to customise the menu to suit your needs.
What's even more exciting, is that Hog Roast Badgeworth has recently partnered up with some gorgeous venues, now saving you the hassle of finding the perfect location for your special day. Two birds – well, you know the rest. Bring on 2021!