Located to the south of Hampshire's historic town lies the front line support helicopter base known as RAF Odiham, and since it was first established in 1925, it has gone through a huge number of changes. Today the base is known across the UK for being the home of the Royal Air Force's heavy-lift helicopter, the Chinook but aside from this, it is considered a pillar of the local community by many of the town's residents.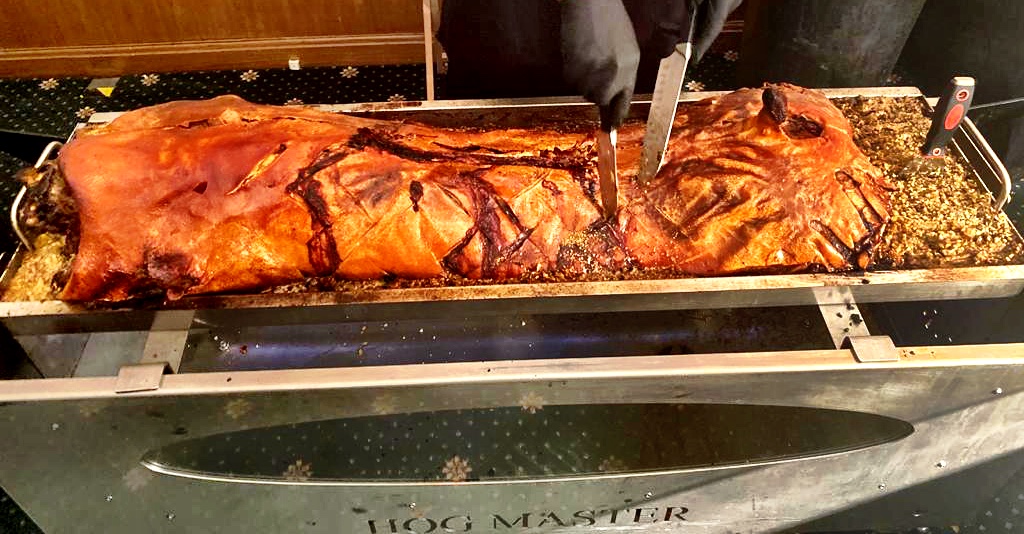 In the lead up to Christmas, Hog Roast Basingstoke received a booking from RAF Odiham's representative, Christopher who was keen for us to serve one of our mouth-watering hog roast buffets at their annual staff party. With the venue set to be packed full with 250 guests, our resident catering manager Lee recommended our simple, yet effective, classic hog roast menu which offers our clients both traditional and irresistible flavours.  After taking a closer look at the menu for himself, Christopher agreed that with the addition of some delicious vegetarian and vegan-friendly options,  it would be perfect for the occasion.
Preparing to serve the feast between 8:30 pm and 10:30 pm, Hog Roast Basingstoke arrived on-site with hours to spare before the guests were scheduled to make an appearance – and working tirelessly, Lee and head chef Dan began cooking up a storm. After nestling the whole pigs among our homemade savoury stuffing, and evenly scoring them for the perfectly crispy crackling that all of our clients look forward to, the duo turned their attention to the veggie skewers. Using freshly chopped tomatoes, bell peppers, red onion and chunks of haloumi, the pair whipped up the tantalising meat-free option which was to be served with pitta bread and a tzatziki dip.
Following the aromatic scent that was coming from the buffet, the guests began piling into the dining hall where they eagerly filled their plates with generous portions of the succulent meat and the accompanying soft and floury gluten-free rolls and wraps. As the host, Christopher was so impressed with the lengths Hog Roast Basingstoke had gone to, and before heading home for the evening the catering team discreetly cleared away the aftermath.