Here at The Spitting Pig we've been enjoying the warmer weather now that summer's finally here. While we offer hog roast catering and machines for hire year-round, the English summer is one of our busier times for providing and serving the food at outdoor events. One that we enjoyed over the weekend was Todd's 30th birthday party with a hog roast in Tirley, which was held in a sheltered BBQ area of his local park. While some parks in the UK don't allow barbecues or suchlike, this particular communal space does, thankfully, and it was a glorious day for it.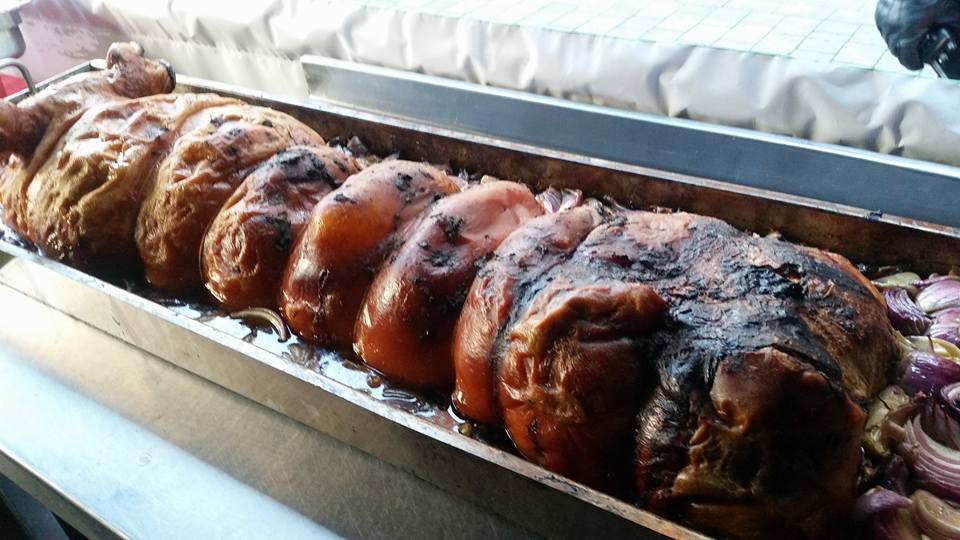 Todd asked us to provide our extremely popular hog roast as well as barbecued food for his large party, and as our professional machines are mobile, even catering in the middle of a park is not a problem. Our own Titan hog roast machine, that we designed and manufacture ourselves, has sturdy pneumatic tyres, so one person can easily pull it across a park or a field if required.
Barbecues are a sign that summer has arrived in this country and in this beautiful park on this warm Saturday, the sign was everywhere. We arrived early morning to start preparing and cooking the huge pig, but if we'd got there an hour later it would have been doubtful that we'd have managed to secure one of the sheltered BBQ areas. The park was teeming with families, groups of friends and couples that had the same idea as Todd. Our team got to work scoring the pig and pouring water and salt on it, then we turned the Titan on and let it cook for several hours.
By lunchtime, Todd's guests started to arrive and the area was soon filled with laughter, hugs and birthday gifts. We cooked our homemade burgers and gourmet sausages and laid out the fresh salads, sauces and stuffing. Then it came to carving and serving our succulent pig, which was a big hit with everyone, and especially with Todd, who couldn't help but have thirds.
Whether you're planning a beach, field or park party, don't forget to check in advance of your event on public ground that you are allowed to hog roast or barbecue there. We thoroughly enjoyed this BBQ in the park, it was a lovely setting for the hog roast in Tirley.