Recently, we catered for a housewarming party with a hog roast in Sherborne. The hosts, Amy and Carrie, had opted for the popular option of an outdoor buffet featuring our famous hog roast with chicken kebabs and marinated spare ribs. The lovely couple had moved into their home a week ago and had been searching for a caterer so they could throw a party for all of their friends; they were recommended to us through a family member. They had trouble choosing from our extensive menu, but one of our staff members was more than happy to help them decide the right option for their friends and them.
When the day arrived for the party we got to the venue with plenty of time to cook a delicious meal for the hosts and their guests. Carrie greeted us at the door and walked us through to the back garden, where they had graciously set up a gazebo for us to work.
We were glad to see that the weather was just right for a party like this, there was a cool summer breeze blowing as we worked to cook the party food. Carrie chatted to us as we worked, asking us about the menu and answering questions about the upcoming party. She even showed a few of our curious staff around her new house.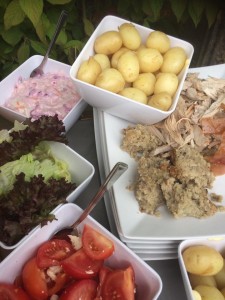 When the guests started to arrive the familiar delicious smells were in the air, leading people outside to see what was cooking. We met so many lovely people and were more than happy to greet them and show them the hog roast in Sherborne that they were about to be served.
By the time that the meal was ready, and our staff were plating up the buffet table, the party was in full swing. We had met the other host, Amy, and we were looking forward to seeing satisfied guests and hoped we would receive some heart-warming compliments.
Customer satisfaction is the most important thing to our company, and so it's lucky that we never fail to impress with our mouth-watering and lovingly prepared food, therefore when the guests started queuing up at the buffet table we couldn't help but smile to ourselves.
At the end of the day when all of the food was gone and we had packed up all of our equipment, we stayed around for a while to chat to the friendly guests and give out some business cards. When we had bid goodbye to everyone we left the house with full hearts and tired bodies after a long but rewarding day and a delicious hog roast in Sherborne.