We loved catering for a spooky murder mystery party this week, which would have been ideal at Halloween (although it would be much colder in October, of course!) For Harry's 30th, he organised his own themed birthday party with a difference – it was adults only, so no children allowed at all! While many, if not most, themed parties are aimed at or include kids, this one was just for the big kids instead, with a big bar that offered lots of alcoholic concoctions and a murder mystery story that would have been way too scary for little ones.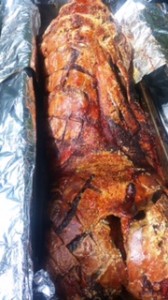 Harry wanted a hog roast in Puddington as the central spectacle at his party but was also providing some buffet food himself. We can actually provide any kind of food for your party or event (from fish to a vegan or gluten-free option, chocolate cake to canapés) but the birthday boy's Mum wanted to design and create some spooky food items herself, because of the murder mystery theme. We couldn't wait to see what she had made for the event, so waited patiently for Friday to come around.
We arrived at Harry's parents' grand home on Friday afternoon to prepare and start slow roasting the large hog roast in Puddington in the estate grounds. For this party of around 40 guests, we had a professional and dedicated team of waiting staff and myself, the chef, as well as a catering assistant. A murder mystery with that many guests sounded like really hard work but Harry pulled it off spectacularly; his experience working in local theatre must have helped.
While this was going on and the pig was cooking to perfection, Harry's Mum appeared with lots of homemade food items that would not have been out of place on October 31st. There was a lot of fantastic finger food in the shapes of weapons, eyeballs and severed limbs and a great big tiered 'Death by Chocolate' birthday cake for Harry. I started to carve the succulent hog roast in Puddington, which had rested a little while once it was ready, and the queues of costumed characters began to form at the gazebo, all eager to take a bite.