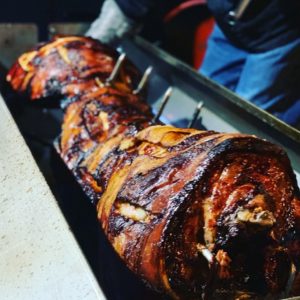 Our Hog Roast Weston-super-Mare caterers left guests speechless this past Saturday when they served a quintessentially British banquet at Claire and Jacob's wedding!
Having picked an idyllic coastal spot to tie the knot at, the pair had a very specific vision in mind for their menu. With fish and chips seen as a non-negotiable seaside tradition for most of us Brits, Claire and Jacob were really keen for us to include this dish in their booking without detracting from the level of class and sophistication they wanted their event to exude.
Now, it might sound like a tough ask, but knowing how meaningful this undisputed national dish is to our customers in the South West, Hog Roast Weston-super-Mare is proud to offer miniature beer-battered fish and chip canapes with tartare sauce, which was perfect for what Claire and Jacob had in mind for their big day.
Further leaning into the clients' desire for a deliciously British menu, we paired this iconic canapé option with pan-seared fillet of beef with mini Yorkshire puddings and horseradish cream, handmade gourmet sausages, smoked Scottish salmon and roasted halloumi and tomato crostini sided by red onion marmalade.
These bite-sized treats were followed by a choice of whole-roasted free-range pork with crackling, stuffing, applesauce and gluten-free rolls; garlic and rosemary studded English lamb with mint sauce and vegetarian-friendly grilled vegetable and halloumi kebabs with tzatziki dip and flatbread.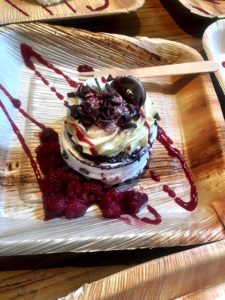 This flavour-rich menu rounded off with a stunning dessert selection, consisting of vacherins of strawberries with passion fruit cream and juicy summer pudding, which adequately prepared the group for an evening of dancing, chatting and merriment!
While the newlyweds and their guests were otherwise engaged (pardon the pun!) in the ballroom, Hog Roast Weston-super-Mare's catering team quickly and discreetly cleared away the crockery, cutlery and any mess left behind on the dining tables – but our work wasn't finished quite yet! Our final task before heading home for the night was to cut the couple's wedding cake after their first dance, which we served as a buffet with mixed berries and fresh cream, much to the guests' delight!