Hosting a corporate Christmas party is a great way to blow off steam at the end of the year and unwind with your colleagues. It has the potential to be a great evening filled with excellent food, great company and fun entertainment. There are no limits to the way you choose to host your Christmas party, but here are just a few ways that you can add some excitement with Hog Roast Bristol!
Buffet catering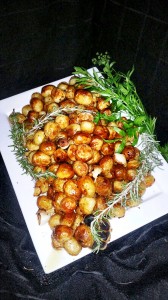 Hog Roast Bristol's buffet catering is usually the best option for a corporate Christmas party, although we have other options available. We can provide Christmas turkeys with all the trimmings, served buffet style to your guests. Our turkeys are whole-roasted to perfection to lock in natural juices and flavours, which is key to cooking a tender and delicious turkey.
Party games
Entertainment is the best way to add some excitement to your event. There are a variety of games you can play, such as card games or board games, for example. You could also host a Christmas quiz or bingo game to add a sense of competition to the event! This can be a great bonding experience for a group of colleagues and a fun way to liven up your evening.
Secret Santa
Secret Santa is a cost-effective way to give gifts. Rather than everyone ending up with many small gifts, it allows you to give a larger gift to one person, which is often more practical and meaningful. The price limit for the gift is up to you, but £10-£20 is usually a good option. This can also be a fun party game as everyone unwraps their anonymous gift and has to guess who gave it to them.
However you choose to host your Christmas party- Hog Roast Bristol is on hand to cater for you. We have a variety of Christmas catering services, including private parties and sit-down meals. To book your catering today, simply let us know your party size, date and location and we can begin to prepare your perfect menu.